Mattie Baumgartner: MS, BA - Administrator (ext 13)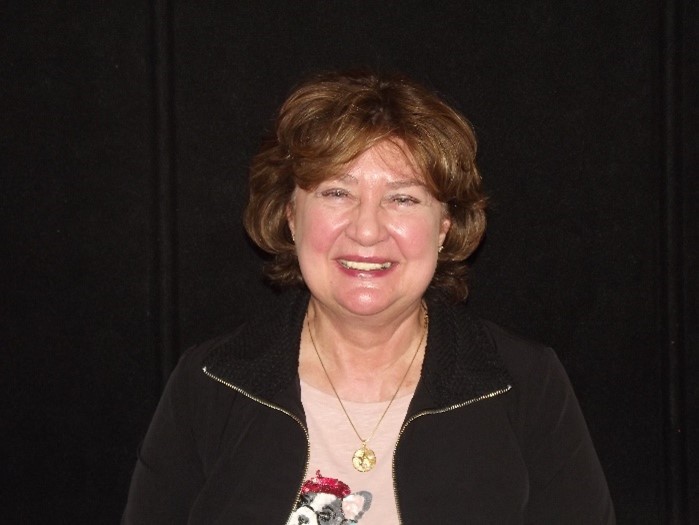 Mattie is the Administrator of WINGS . Mattie has 40 plus years of experience in the addiction/mental health field. She holds a BS degrees in Psychology and Vocational Rehabilitation with a Masters in Management.
Mattie has worked with adolescents and adults in multiple inpatient and outpatient settings, including Regional Treatment Centers, and several privately-owned centers.

It is her pleasure to see that every effort is made to provide quality treatment experiences and the tools necessary for a successful recovery. Mattie looks forward to meeting you.
Mary Lou Rolfe –Assistant Administrator, new referrals, accounts receivable (ext 10)
Mary Lou has been with WINGS since the program opened in 2007 and brings 20 plus years of Administrative experience to the team. Mary oversees all the administrative functions. Mary holds many responsibilities, she directly handles all financial matters such as client Insurance billing, accounts payable/receivable.

She has extensive knowledge about our program and can assist you with questions about our program such as: what is needed for placement, insurance/funding questions and other program questions you may have. She will also help guide you with, what your child can and cannot bring to admission, visitation times, rules at the facility, what a typical day consists of day and other general questions.
Mary provides great customer service along with contributing to help build a great team at WINGS. Mary enjoys helping families feel comfortable with their choice to choose WINGS and looks forward to working with you.
Wylie Boehmlehner: BA, LADC - Program Director (ext 11)
WylieB@Wingsats.com
Wylie has over 9 years of experience providing counseling and support services to adolescents in recovery. He also has over 12 years of experience in business management. He earned his bachelor's degree at St Cloud State University and earned a chemical health counseling certification at Ridgewater College.
Wylie uses a combination of attachment based, motivational interviewing, and DBT skills rooted techniques. He provides a judgment free and safe place for clients to explore their thoughts, feelings, and experience. Wylie strives to have every client feel seen, heard, and valued. He encourages clients to find themselves and what makes them amazing.
Wylie believes in putting people first and has a passion for helping others. He aspires to position the team he supports to reach their full potential by prioritizing continued education, building confidence by experiencing success, providing consistent reflective space, and encouraging self-care. Wylie strives to set a high standard of care not only for himself, but also for the team that he leads and the agency he supports.
Kirsten Langerman, MSW, LICSW
Kirsten Langerman, MSW, LICSW received her Masters Degree in Social Work from the University of MN- Duluth Campus and her Bachelors in Social Worker from Saint Cloud State University. She had vast experience working with children and families who enter the child protection system in both tribal and county settings. Kirsten is passionate about providing culturally appropriate and trauma informed services to her clients.
Kirsten also has experience providing clinical supervision to children's mental health workers as well as individuals obtaining their licensure. Kirsten provides a safe learning environment for practitioners to objectively reflect on their practice, enhance their skills, and consult on ethical situations. Kirsten values the importance of healthy boundaries and self-care and implements this into clinical supervision.
Kailly Bonnett MS, LPCC, LADC – Mental Health Professional (ext 20)
Kailly earned her Master of Science in Community Counseling with a certification in Chemical Dependency at St. Cloud State University. She has over 9 years of experience of providing mental health and chemical dependency services in a variety of settings including: outpatient therapy, co-occurring residential adolescent and adult treatment centers, school linked therapy, and crisis services.
Kailly utilizes person-centered and motivational interviewing to empower the individual to gain personal insight and growth. Kailly believes building a therapeutic relationship is a vital starting point within the therapeutic process with respect, honesty, directness, and humor. She focuses on providing a warm, welcoming, and non-judgmental space for those to explore their lives, relationships, and current stressors.
Kailly's passion is working with children and adolescents, finding out who they are and what makes them unique. She enjoys helping individuals reach their full potential while instilling a message of hope. Kailly's specialties include play therapy, trauma work, anxiety, depression, substance abuse, self-injurious behaviors, suicidality, life transitions, crisis management, and co-occurring disorders.
Alyssa Syme - Mental Health/Art Therapist (ext 25)
Alyssa is a kind and compassionate art therapist who has over 7 years of experience working with vulnerable populations from infancy to elderly. She enjoys working with adolescents the most due to their astounding creativity and passion. Alyssa received her BA in psychology and art through St. Cloud State University. She herself has a passion for art and using creativity to help those struggling with addiction.

In 2020, Alyssa graduated with her master's degree in Art therapy, LPCC track, through Adler Graduate School. Art therapy allows you to explore your true self on a deeper, more meaningful level. Alyssa believes that art therapy is especially helpful for those with a history of trauma and addiction because it allows you to express yourself freely without having to put your thoughts and feelings into words.
Alyssa uses a humanistic, person centered, and Adlerian approach to counseling, while providing a safe place for adolescents to process their feelings without judgement. Alyssa believes that her purpose in life is to give back what was given to her. Recovery has become a passion of hers in her own life and in the lives of others. It is Alyssa's goal to foster resilience, self-awareness, and self-compassion in those who need it the most.
Abigail Orsburne - ADC Male Counselor (ext 24)
Abigail received her Associates of Arts Degree through Ridgewater college, and she is currently completing her internship at WINGS for her Chemical Dependency Certificate. Abigail started her internship at WINGS in January 2021.
Abigail uses a variety of therapeutic techniques based on each individual client. She takes a person-centered approach to highlight client's needs, and will apply a combination of motivational interviewing, CBT, DBT, and existential therapy. She believes that individualized care is necessary for a client's wellbeing and success. She wants clients to feel a sense of belonging, and feels it is of utmost importance to feel seen, heard, and understood. She takes pride in being a safe person for clients and creates an environment that is accepting , non-judgmental, warm, and welcoming.
Abigail is passionate and enthusiastic when it comes to helping people. She strives to provide the best care possible for clients during their recovery through WINGS.
Leah Beighley - BA - Female Counselor x15
n
ReAnna Litzau - BSW, LADC Intake Counselor
320/699-1101 (please do not call 320-593-0440)
WingsIntake@Wingsats.com
ReAnna attended Ridgewater College and received her Associates of Arts degree along with her Chemical Dependency Certificate in May 2016. She graduated from the College of St. Scholastica earning her BSW and is now working toward her MSW. ReAnna has worked with adolescents in the chemical dependency field and has also has experience working with adults in an outpatient chemical dependency setting.

ReAnna takes a person-centered approach with the clients she works with and believes in providing a safe and confidential environment for clients to work on their recovery. ReAnna strongly believes in the client's success and shows genuine concern and dedication to the recovery of all WINGS clients. ReAnna is always available to listen to the clients and their families. ReAnna takes pride in keeping the safety and best interest of the clients first and foremost along with her ability to make sound and ethical decisions. ReAnna also values being a positive and reliable team player.
Kim Olsen Resource Coordinator (ext 14)

Mackie Schmitt - RN (Ext 19)
Amie Vetsch - RN (ext 19)
Connie Runke - LPN (ext 19)
Connie started at WINGS as a Tech staff in 2016. She moved into the nursing role in June of 2018. Connie has been a nurse since 1982 and has worked in multiple medicals disciplines.
Connie is committed to coordinating individual medically services for each client through input from clients, staff, counselors, and parents.
She feels providing education through weekly nurse lecture on subjects such as personal hygiene, smoking cessation, growth and development, nutrition and mental health is vital for client success after discharge.
Healthy Children are able to learn, grow, and develop
Kateri Kormann - BA, RYT, CD(DONA), Yoga Calm, Yoga Instructor

Kateri joined the WINGS team as a registered yoga teacher. She has 20 plus years of yoga experience and has owned Open Sole Yoga since 2014.
She is passionate about creating the space for transformation from the inside out by connecting the minds, mind and breath.
Anna Spencer Fitness/Nutrition Coach
Anna received her Bachelor of Arts Degree in Psychology and Sociology from Concordia College in Moorhead, Minnesota. She has also obtained certifications in Personal Training, Nutrition, and Health Coaching through International Sports Sciences Association (ISSA). She has multiple years of experience working as a Chemical Dependency Tech and a Direct Support Professional. Also, she has 4 years of experience working in an elementary school as Special Education Paraprofessional in the EBD (Emotional Behavior Disorder) Department and has recently obtained a licensing for Foster Care.
Anna has a strong passion for helping and inspiring others to grow through their life experiences. She creates a strong and supportive environment by showing kindness and positivity. She uses her knowledge of full body wellness to help educate others how to make healthy a positive choice in all areas of life. Anna believes in others and helps them discover their worth, motivation, and inspiration. Life is a journey and as long as someone is open to growth and learning, they will continue to grow in the best version of themselves.
WINGS TECHNICAL STAFF
Sheryl Krueger – CD Technician
Sheryl has been a part of the Wings team since October 1, 2008. She came with 15 years experience working with male adolescents at another facility.
Sheryl has a strong passion of keeping the clients safe, cared for and supported during their stay at Wings.
Sheryl works has to gain the trust of clients and making their stay at Wings, away from their families as comfortable as possible while helping them follow the rules and gain responsibility, self worth, strength and patience.
Kristi McCandless - Recovery Coach/CD Technician
Allyson Haring – Residential Coordinator (ext 12)
Allyson has been employed with Wings since 2011. She has a passion for working with adolescents and making their stay at Wings an enjoyable and positive experience.
Allyson feels her purpose at Wings is to make sure every person knows they have a chance at recovery and deserves to be happy. For whatever reason they are at Wings, there is hope, and we never give up because they are worth it and we care.
Kortney Haaf - Residential Manager (ext 21)
SCHOOL
MAWSECO - Meeker and Wright Special Education Cooperative
Karla Rick - Teacher ext. 23
Karla has taught as WINGS since it opened in 2007. She has 20+ years of teaching experience. Karla received her bachelors degree from St. Cloud State University in the area of Special Education. Karla received an Educational Leadership Masters Degree from St. Mary's University of Minnesota. While there she also completed all coursework for K-12 Principla licensure program.
Karla strongly believes that every student has ability and the potential to do great things. She adjusts course work to tech students needs and ability level. She does not let students fail. She works cooperatively with the counseling team to create the best possible experience for the students while at WINGS.
Anna Spencer - Paraprofessional (ext 23)